Amos Doolittle
New Haven, CT
(b.1754 - d.1832) Active from c1775, silversmith, jeweler & engraver of printing plates.
Leonore Doskow Inc.
Montrose, New York ~ 1934 - Present
Handmade sterling jewelry & novelty items.
George Christopher Dowig
Philadelphia, PA & Baltimore, Md
(b.1724-d.1807)Active in Philadelphia from c.1765, in Baltimore by 1773.
George R. Downing
Newark NJ & New York NY
Active Newark c1815 - 1825 and later in NY.
Karl Drerup
(1904-2000)
New Hampshire
active after 1940
Enamelist & studio jeweler
Samuel Drowne
Portsmouth, New Hampshire
(b.1749 - d.1815)
Tunis D. DuBois
New York, NY
(b.1773 - d.1843) Active c1794 - c1820, silversmith
Theodore Dubosq
Philadelphia, Pennsylvania
Active ca. 1829 - 1850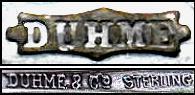 Duhme & Co
Cincinatti, Ohio
active c.1839-1910, major manufacturer of silver holloware and flatware.
Anthony Dumesnil
Lexington, KY
Active c1818 until his death in 1833
Jean Baptiste Dumoutet
Philadelphia, PA & Charleston, SC
(b.1761-d.1813)Active 1793-1813, opened branch shop in Charleston, 1802.
Dunkirk Silversmiths
Meriden, CT
c1945 - 1950, manufacturers of sterling and silverplated wares.
Cary Dunn
Underhill VT, Morristown NJ, Newark NJ & New York NY
(d.1798) working from c1765 - 1823
Daniel Dupuy Sr.
Philadelphia, Pennsylvania
(1719-1807) Active ca. 1746 until his death. From c1760 mostly in partnerships with other silversmiths.
Daniel Dupuy Jr.
Philadelphia, Pennsylvania
(1753-1826) Active from ca. 1772 to 1810, in partnership of Dupuy & Sons 1772 - 1805



Wm. B. Durgin Co.
Concord, NH & Providence, RI
c.1880 - 1905
Successors to William B. Durgin. The firm was absorbed into Gorham who continued the use of the "script D" mark until ca. 1930
William B. Durgin
Concord, NH
Early marks, used in the second half of the 19th Century.



Durham Silver Co.
New York, NY
c1950s - 1960s, manufacturers of sterling holloware.
Louis F. Durussel
Owego, New York
Swiss emigre, 1850. Retailer, listed as a jeweler from 1860-1890.