If you have any information on any of the marks or makers below, please let us know.
• • •

American ca. 1930s/40s, items bearing this mark tends to resemble works by Alphonse LaPaglia, William DeMatteo, and Walter Meyer. Usually decorated with cast elements, sometimes hand hammered.
A handwrought modernist sterling, copper & moonstone brooch. American ca. 1950's. I've seen three pieces by this maker, all in mixed metals and well made.
A completely handwrought Arts & Crafts sterling bowl ca. 1910. It is marked on the reverse, J. P. Sidel - Sterling. Very well made from heavy gauge sterling, hand raised with a hammered finish.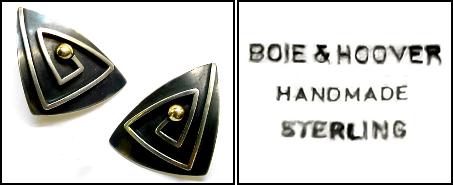 A pair of handwrought modernist earrings ca. 1950's/60's. They are marked on the reverse, Boie & Hoover - Handmade - Sterling. Well made with clipback findings.
A handwrought modernist serving piece ca. 1950's/60's. It is marked on the reverse, E. R. Vaughan - Sterling. Heavy gauge, planished finish.
A handmade pair of Modernist Studio cufflinks ca. 1950's. They are set with very dark smoky quartz or obsidian and are marked on the reverse - Ed. Harris Sterling. I've have seen one other pair of links, also stoneset, with this maker's mark.

Ruth M. Erickson (b.1911) was a native of Cleveland, Ohio. Between 1939 and 1976 she exhibited 240 pieces of handmade jewelry, flatware, holloware and woven handbags in the "May Show" Annual Exhibition of Artists at The Cleveland Museum of Art. Please contact us if you have any biographical information.
This turquoise set, hand hammered sterling arts & crafts brooch is marked on the reverse with the MC stamp and for sterling. I have seen one other piece with this mark, a small silver overlay pin, similar to what Heintz Art produced, but all in sterling. If anyone has any info on this maker, please write to the email address below.
Idella La Vista had a shop in NYC in the fifties. I have seen a number of very fine studio jewelry pieces with her mark and would like to know more about her. The only reference is in an early 1950's issue of Craft Horizons Magazine, an article on retail store displays, it included of photo of her shop interior, but no info on the silversmith. Her mark is included in Marbeth Schon's fine new book - Modernist Jewelry, 1930-1960 - but without biographical information. If anyone has any info on Ms. La Vista, please write to the email address below.
The information below was found at the Social Security Death Index on the web:
Last Residence: Bronx, New York, U.S.
Born: 4 Feb 1920 Died: 1 Nov 1999
SSN issued: New York (1954-1956)
(thanks to Rosalie)