A Chronology of Antonio Marks
1941 - c.1945
c.1945 - c.1948

c.1945 - c.1948

c.1948 - 1953

from 1953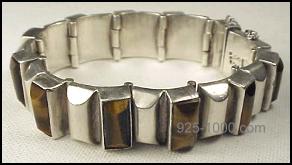 970 Silver & Tiger Eye Bracelet
courtesy - Tracy/Black Collection

Antonio
One of the finest designer/craftsmen to have emerged from the Mexican Silver Renaissance of the twentieth century was Antonio Piñeda of Taxco.

Born in 1919 to an old Taxco family, as a youth Antonio attended the progressive Open Air School of Taxco, he studied painting under Tamachi Kitagawa & David Alfaro Siquieros, sculpture with Martín Pineda. At the age of 14, he was apprenticed to the newly founded Taller de Las Delicias of William Spratling to learn the craft of silversmithing. After eight years with Spratling, and by then a master in his own right, Antonio founded his own workshop in 1941, this move enabled his artistic talents to blossom in his own original designs.


Sterling & Pearl Earrings




An accomplished silversmith noted for his innovative techniques, Antonio's international recognition began in 1946 when his work was exhibited alongside that of Margaret De Patta and Georg Jensen at the California Palace of the Legion of Honor in San Francisco. Antonio had exhibited at the urging of Richard Gump and following the exhibition, Gump's purchased the entire collection of Antonio works to offer in their well known retail establishment. This commercial relationship with the upscale West Coast retailer lasted for the next decade, firmly establishing a place for Antonio jewelry in the North American mainstream.


The 1940s were important years for Antonio's artistic development, during this time he attended a trade school in Mexico City in order to refine his craftsmanship.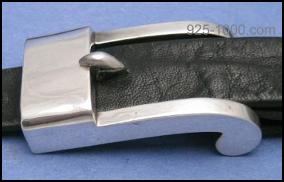 Massive 970 Silver Buckle



While there, he established a relationship with Valentin Vidauretta, a painter and highly regarded silver designer with a silver shop in Mexico City. Piñeda acknowledges Vidauretta as a great influence in spurring him to develop his own ethos of design and around 1950, Antonio's design concept truly coalesced into his signature style. Large & spare, cleanly designed sets of hollow construction using creatively cut stones in innovative settings, the architecture using inventive joining, catches & closures. Aside from their intrinsic beauty, Antonio pieces are amongst the most technically refined ever made in Taxco.


Antonio became the preeminent proponent and producer of Mexican Modernism in the decorative arts. By 1956, highly successful, he had the need to expand to a second workshop in order to meet the demand to fill his own retail shop on the Plaza Borda and that of clients abroad.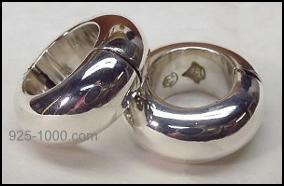 970 silver Spring Clip Earrings






Always interested in promoting fine design and originality in local silversmithing, Antonio helped organize the earliest of the Ferias de la Plata (Silver Fairs) of Taxco
970 Silver & Amethyst Bracelet
courtesy - Tracy/Black Collection


where he garnered the Presidential Prize in both 1953 & 1959. In the 1980s, he helped to found the Taxco Museo de la Plateria, an institution inaugurated 1988. Mr. Pineda is still active in the world of jewelry design.


Over the course of his long career, Antonio Pineda is known to have used four different maker's marks: "AP in circle", "Silver by Toño", "Jewels by Antonio" and his famed"Antonio, Taxco within crown". In the early years he used .980 silver, has been known to use .925 Sterling, but the predominant standard of his work is .970 silver.


•