Ed Wiener
Obituary, The New York Times
July 25, 1991


Ed Wiener, a New York jewelry designer, died on Sunday at Beth Israel Medical Center. He was 73 years old and lived in Manhattan.

Mr. Wiener died of a heart attack, said his wife, Doris.

Mr. Wiener began his career in artists' circles in post-Bauhaus Provincetown and Greenwich Village, in the early days of the Abstract Expressionist movement of the late 1940's. The two movements were joined in his jewelry designs.

"His jewelry of the period has unusual clarity in contrast to the baroque exuberance and surrealistic fantasy of some of his contemporaries," Dr. Milton W. Brown, an art historian, wrote later.

Among his clients were Louise Nevelson, the sculptor, and Martha Graham, the dancer.

Mr. Wiener worked largely in silver until the late 1950's when he branched out into new settings in gold and precious jewels, moving, as one critic put it, from craft into art. Over the years he had studios on 53d Street and on Fifth Avenue and continued to work at his Fifth Avenue gallery, by appointment, until his death.

A native New Yorker, he was largely self-taught and learned to make jewelry with plumbers' and carpenters' tools.

Besides his wife, the former Doris Levin, a gallery owner specializing in Indian and Southeast Asian antiquities, he is survived by two daughters, Nancy Hamill of Manhattan and Michele Caplan of Hartsdale, N.Y., and two grandchildren.







Ed. Wiener

(1918-1991)
New York, NY
Provincetown, RI

(maker's mark examples)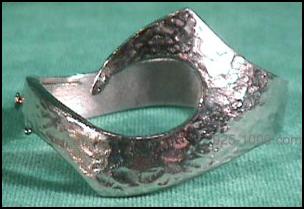 Ed Wiener
Cast 14k Gold Bracelet, 1970s


Ed Wiener
14k Gold Money Clip, 1970s


Ed Wiener
Sterling & Enamel Pendant, c.1952


Ed Wiener
Sterling "Martha Graham" Pin, c.1947


Ed Wiener
Sterling & Gold Tiebar & Cufflink Set, 1950s


Ed Wiener
Sterling & Enamel Pendant, c.1952


Ed Wiener
Sterling Money Clip, 1950s


Ed Wiener
Sterling & Coral Earrings


Ed Wiener
Sterling Tie Bar


Ed Wiener
Sterling & Topaz Ring c.1960


Ed Wiener
Brass Acid Etched Dish, 1950