Art Smith
Obituary, The New Amsterdam News
March 6, 1982
by Mel Tapley

What a way to die! Or more accurately, what a way to confront death! Everyone who attended the services at St. Peter's Lutheran Church, Lexington Ave. and 54th St., for Art Smith, the extraordinarily talented jewelry designer, must have thought this.

With the Duke Ellington Society providing some choice recordings: "Praise the Lord", by Helen Bans, singing in clear, almost bird-like tones: and - at Smith's request - a beautiful arrangement of "Stardust, " by the Duke Ellington Orchestra, which Jack Towers recorded in Fargo, ND: and, in person, a moving rendition by Betty Brisbane of "Amazing Grace, " excellently accompanied by Eddie Bonnemere: and instrumental solos by bassist Al Hall and pianist Randy Weston, it was a wonderful way to say "Goodbye" to the man who had been a member of the Duke Ellington Society the past decade and who had designed and made such lovely jewelry.

Almost from the time he graduated from Cooper Union Day Art School, after a brief period doing posters for the Harlem YMCA and supervising a Junior Achievement group in Harlem, Smith had worked in Greenwich Village - first for Winnie Mason and then in his own shop.



Treasure Trove


Stepping down the few steps into his tiny West 4th St. display room and workshop, you felt all the astonishment and pleasure of Ali Baba entering the gleaming treasure trove of the Forty Thieves. But these jewels were stolen only from the rich imagination of this unique jewelry magician and destined to the aesthetically sophisticated crowd of students from New York University, Villagers, and visitors from all over.

There were dangling earrings, bracelets and necklaces, linear arabesques that enhanced their wearer's beauty and prestige. Gradually, it became a familiar refrain: "Isn't that gorgeous? Art Smith made it!"

Many tried copying his style, but few succeeded because his copper, silver and gold creations, often accented with semi-precious stones, had an elegance, creativity and distinction of an Ellington composition.

Perhaps this was a direct line of aesthetic communication and kinship that Smith had with musicmakers. Saving coupons from the N.Y. Post in the days of Jimmy Cannon and those writers fo the 30's and 40's. Smith as a Cooper Union freshman, had collected enough to get a record player. He built a cabinet for it and continued adding to his collection of rare Billie Holidays, Dukes, Ella Fitzgerald and Chick Webbs - and the hierarchy of Jazz.



Jazz Expert


Just as he could have contributed much to the college art faculties, he would have been an asset to any radio or TV Jazz show with his music lore learned from haunting Harlem and Village clubs where the greats played and from reading Downbeat, Metronome and the other music publications assiduously. Certainly, Art Smith was an articulate, knowledgable spokesman for Jazz.

He tied the two mediums together - jewelry making and music - by hobnobbing with fellow artists like Charles Sebree, Charles and Elizabeth White, Ruth Attaway and her brother Bill: and designing unique pieces - like his Zodiac Suite bracelet for Mary Lou Williams - for various musicians he admired or was commissioned for. His work was included in many art shows all over the country.

Occasionally he let sentiment lure him in other directions, like the brooch he designed for Mrs. Eleanor Roosevelt that was presented to her by the Peekskill NAACP.

Rev. John Gensell, one of God's sensitive emissaries, revealed in his brief remarks that one of Smith's closest friends, Charles Russell, had said, "Arthur's said that he's ready to go home," indicating that he was prepared for the inevitable journey.

A friend wrote a very poetic "portrait of Arthur".
"While as an artist he was about form, as a man he was about substance...
"Not without humility, he once saw a pink flamingo spread its wings to reveal a shimmering blue-black underside and he declared with a smile, 'God is a truly the supreme artist.'"

If his sister, Ina, thought about her brother's sensitivity or his "rage against social injustice", she might say that he may have inherited some of that from their gentle, tiny mother and memories of their father, an old Garveyite. As Rev. Gensel said prayerfully, "Thank you, God, for giving us Arthur, your child and our brother."
•
Art Smith
Stickpin
Sterling c.1940s

(maker's mark example)
Arthur Smith
(1917-1982)
New York, NY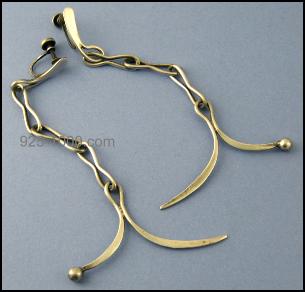 Art Smith
Earrings
Sterling c.1950s

Art Smith
Collar
Brass, c.1950s
image courtesy of mschon.com

Art Smith
Earrings
Sterling c.1950s

Art Smith
Earrings
Brass c.1940s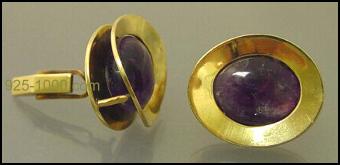 Art Smith
Cufflinks
Gold & Amethyst, c.1960s
image courtesy of mschon.com

Art Smith
Earrings
Sterling