Hello everyone
also this time I have a strange question.
This lamp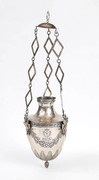 has this hallmarking.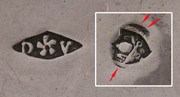 Something is wrong since the mark in the lozenge does not correspond to any silversmith listed in the books on Roman silver, which are quite exhaustive for the silversmiths of the nineteenth century. Furthermore, the edict of Cardinal Pacca prescribes that the silversmith's mark must be composed of his initials and a
number
that identifies the shop,
not a symbol
.
However, I noticed that the mark of the keys under the tiara is struck on a pre-existing mark, of which you can see the outlines marked by the red arrows.
Is it possible that the mark in the lozenge is that of a French silversmith?
Does anyone recognize him?
Thanks for attention
Amena