Robert Dennison was a specalist bucklemaker whose working life spanned from late 1724 when he was apprenticed until his death in early 1776, probably aged around 66.
It is possible that this actually covers two men, father and son of the same name but as his son, was christened late 1755, and he had at leasst one older daughter ,the probability is just the one man.
He was probably a Huguenot or of Huguenot descent .
He almost certainly had marks in the lost registers
Grimwade only gives marks registered to him from 1767 to 1772, which for sake of completeness I have appended to this post
Unrecorded marks found that may be his are all cursive/script and there are either two, or three depending on your view of the "skinny RD"
The mark below is probably the earliest I've found.
.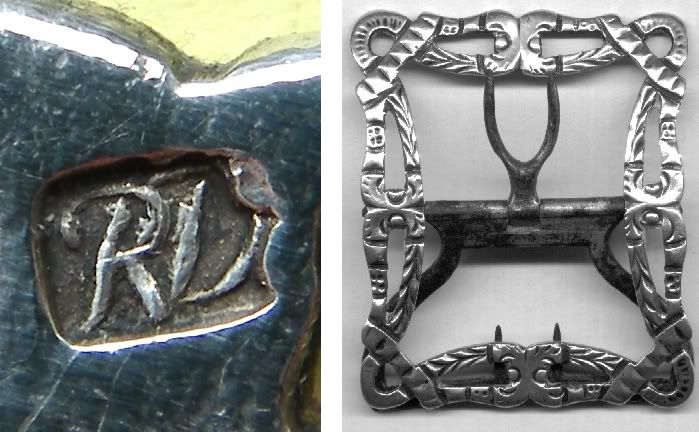 .
The buckle it is on is probably dateable to around 1760 or even earlier. The only other marks are the London Lion Passant of 1756 onwards
The ones below, all again on buckles with the the London Lion Passant of 1756 onwards, seem to show two marks. The upper row — normal RD, and the bottom row -a remarkably thin, sketchy and very hard to photograph RD which I've termed the "skinny RD". Whether the latter is perhaps a very worn version of the other is hard to say.
To complete the picture the photos below show two of his post 1756 marks. All again found on buckles.See Grimwade 2298 and 2299 and the notes thereto. Curiously I've never seen his mark on tongs or nips, although it often appears on cheques.

Dennison probably died in early 1776 and his will, witnessed by Ayme Vedeau (Videau) was proved at PCC on 20th July 1776. His premises at Cecil Court were taken over by his son Anderson Robert Dennison, whose mark I have only seen once.
I have more information on Robert himself if anyone is interested.
.