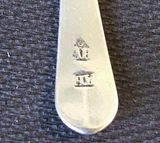 Gentlemen
A bright cut salt spoon with a repair where bowl joins stem, found in Northumbria.
I believe the top mark AH with a small o above to be Anthony Hedley of Durham 1789-1810, as registered at Newcastle, Jacksons pages 502 and 510.
A different AH mark appears along side.
His wife/daughter Jane Hedley continued from 1811 to 1822.
If I am correct, then why no Assay Office marks?
Unlikely to be a duty dodger, could it be for personal use?
I have checked Irish, Scottish and Colonial marks to no avail
Any information would be gratefully received.
Regards
Paul