The above are the marks on a stock buckle with London 1740 —1756 Lions Passant
The one below, showing it seems a very well worn version of the same punch, has the later 1756 onwards Lion .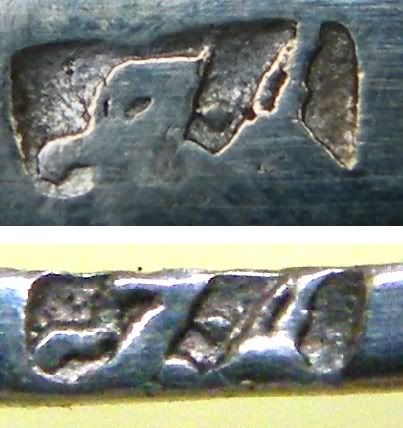 Both sets are very closely resemble No 1109 in Grimwade which is not in the surviving registers but was taken from a taperstick of 1781. He originally attributed it to Jonathan Alleine, but then revised his opinion to John Arnold , a specialist candlestickmaker.
However with evidence of the mark ,or one like it being pre 1756 this precludes the ones in the photos above from being Arnold.'s as he was still an apprentice until 1759 !.
I believe there were two, very similar marks, one in the lost smallworkers register of Alleine or someone else , and the other in the later lost largeworkers register of Arnold
There is no actual evidence to link the earlier mark with Jonathon Alleine, who was free in 1749 and in the Parliamentary Report 1773 with no category and according to Grimwade may only have been a retailer .
I think the earlier mark more likely to be one of the following:-
John Allen (1) who registered a mark (Roman Capitals) as a smallworker in 1733 . Heal gives him as bankrupt in 1743 but I can find no reference in the London Gazette to this . Grimwade (page 734) considers him to be a bucklemaker and he may well have still been active in the late 1760's
.
Or
James Allen. Registered a smallworkers mark in 1766 and appears as a bucklemaker in the PR1773 and may well have had entries in the lost register prior to that date .His 1766 mark (Grimwade 1108) is very similar to the above
Another I A ( or SA ? ) mark, found on a pair of shoe buckles with a London Lion Passant of 1740 —1756 may also relate to either of two above.
See below
.