.
From information given by William Winterbotham (an apprentice of Harrison) it appears that William Harrison was born around 1717, and started his business around 1748, taking over the premises of his old employer - who may have been his original master.
Grimwades entry stating that Harrison's master may have been James Steward is , according to a pencil note on the Goldsmiths Hall's copy, incorrect.
His master was almost certainly a member of another Company , from whom Harrison obtained his original freedom, although he was made a freeman of the Goldsmiths in August 1753 by redemption. He is recorded as taking two apprentices prior to 18 July 1758 when his first known registered mark, as smallworker at 38, Monkwell Street was entered.
That he had marks in the lost smallworkers register is thus very likely.
Below are given two possibilities
This is on a small buckle , unmarked except for the incuse maker's mark, although from the style it is almost certainly English of the 1740 —1750.period. The design was I believe called "Rose and Diamond " pattern at the time. The chape may have been altered.
.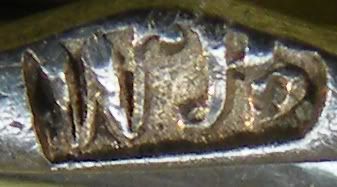 .
Superficially this maker's mark, found on a stock buckle with the London Lion of 1740 -1756 appears to be that of either William Homer or William Hunter. , However although being of the correct peroid both were largeworkers. and none of their marks fully match.
I believe this could well be one of Harrison's.
Typically for a stock buckle there are two makers marks on the buckle - one on the frame and one on the chape. Equally typically, by Murphy's Law both are incomplete in the same area !
.