AB
Mark
Only Assay Mark is the Lion Passant Guardant of the London form for 1756 - 1784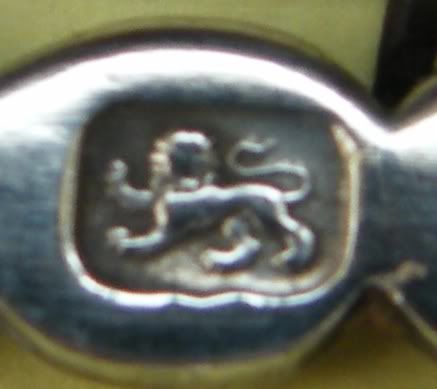 On a pair of shoe buckles of approx 1770
Also seen on at least two pairs of cast silver tongs of similar date and assay marks .
Probable Maker
Anne Bickerton
Anne was the widow of Henry Bickerton , a smallworker, free 1745 whose only recorded mark was in Monkwell Street 26th August 1762, although it is likely that he had marks in the lost smallworkers register of 1739 - 58. He appears in the Goldsmiths Hall Broken Plate Broken Plate Book 3 September 1765 as the originator of a parcel of work weighing 5lbs. 10ozs. 5dwts which was ii dwts below standard. Known to be a maker both of buckles and sugar nips.( David Shlosberg ) .He died in 1765 "of a violent fever " (Public Ledger of 7 October 1765) at the age of 41.
His will of 20th February 1765, was proved in PCC 14th October 1765, by Ann Bickerton, his widow, John Bickerton his brother (born 1716 ) and his friend William Clare ???? (perhaps Clark ) of Bishopsgate Street , Coppersmith.
Anne was was an executrix and legatee of Henry's will and appears to have carried on trading as a bucklemaker.
There are no recorded marks for Anne as a smallworker , although she may have be in the lost Largeworkers Register. A mark is presumed to exist as another Bickerton entry in the Broken Wares Book appears under Ann Bickerton's name on 18 Feb 1766 with a parcel of work weighing 4lbs 7ozs 17 dwts which was, again, ii dwts below standard.
An Anne Bickerton who describes herself as a Goldsmith in the trial of her maid for theft in 16 Jan 1766 was almost certainly the same lady although no address given in the Old Bailey trial report.
Not mentioned in Parliamentary Report of 1773 so she either retired or was dead by that date, unless her absence in Goldsmiths Hall registers caused her omission.
.