I'd like to have your opinion on a saucer with a mark that we have already covered in other posts.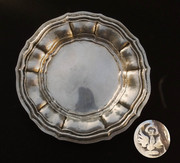 This saucer has several areas where the wear and tear has highlighted a much more yellowish metal than the surrounding.
Evidently the artifact was silvered.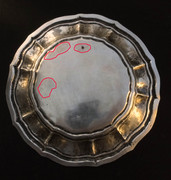 I had it analyzed by X-rays and, in the areas where the silvering was intact, this composition was found
Ag 740.3
Cu 250.6
Zn 5.31
Sn 3.24
Pb 0.56
In the worn areas , the percentage of silver detected was below 700/1000 and this, according to those who carried out the test, means that the thickness of the silvering is very thin.
The mark on the saucer, if it is genuine, is not a hallmark, but simply a Milanese silversmith's mark of the late eighteenth century.
Strictly speaking, it was not forbidden at that time in Milan to also work silver with a fineness of less than 903/1000, but this is however rather suspect.
Can anyone give me an opinion on the composition of the alloy, on the silvering methods in use in the eighteenth century?
Thanks
Amena