I would appreciate help in identifying this punch ladle.
The coin set into the bowl is dated and I think it is 1710, but I'm not confident. That of course doesn't provide a date for the ladle as an older coin probably would have been used.
The script round the coin is as follows,
Tails side: MAG BRIFR ETHIB REG 1710(?)
Heads side: ANNA DEI GRATIA
I suspect the coin might be Austrian, but I can't find an Austrian Empress Anna. Can someone help identify the coin?
The marks on the shaft are shown in the accompanying photos,
D
I+M (a marriage gift?)
And a punch mark IO
I would appreciate help with identification of the coin and an explanation of the punched marks, and estimated date for the ladle.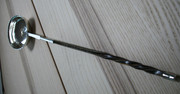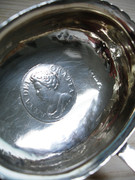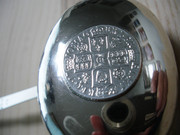 <a href='https://postimg.cc/image/6isn9yo7r/' target='_blank'><img src='https://s15.postimg.cc/6isn9yo7r/PL4.jpg' border='0' alt='PL4'/></a>