This is believed to be the mark of 1789 mark of John Simpson , a silver bucklemaker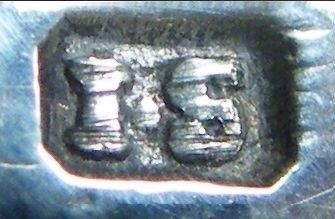 Grimwade gives him as having registered a mark as bucklemaker at 5 Rose and Crown Court , Foster Lane. It certainly conforms to his description as being I S , pellet between , and being a cut cornered punch.
The mark is on a pair of buckles of the 1785 – 1790 period .
The Land Tax Assessments of Aldersgate Without gives a John Simpson in the St Leonards Parish from 1781 when he replaced a Thomas Giles in Rose and Crown Court . He is shown as the occupier there until 1791 when he had been replaced by one John Chambers who had previously lived in a nearby house .
However a John Simpson then appears, still in Aldersgate Within, in the neighbouring parish of St Mary, Staining in 1791, replacing Thomas Jones which probably indicates him moving to new premises, which were almost certainly in Staining Lane. He is shown there until after 1800 .
There is however an intriguing possibility that this was actually a son, or another relative, with the initials IIS, who made the move, having taken over the business .
This would solve two mystery London IIS marks, also found on buckles , of which Goldsmiths' Hall has no record.
The first, below , is almost certainly John Simpson's 1789 punch overstriking itself to give I*I*S. The buckle that carries it has the dateletter of London 1793 /94 (the very distinctive barred capital S) . So very certain to be London .
The second, below, appears to be a properly made version of the punch . It is on a buckle datelettered for 1797/98
Does this series reflect the death or retirement of the first John Simpson, then the move to Staining Lane, St Mary's Staining by a son or relative ?
All answers on a postcard please !