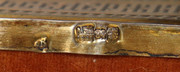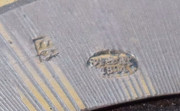 I have a question regarding this item which sold in a local auction.
(admin edit - see

Posting Requirements

)
The description was
Icon: Wood, polychromed, silver with extensive engraving "Christ Pantorcrator" 26.5x22cm, assay mark AA Moscow Kokoschnik hallmark 1891 maker "EK" possibly Erik Kollin, 2 minor splits to silver on outer edge
Obviously not a piece made by Kollin
It has two different Assay marks which tends to point towards a made up piece.
My question is not about the authenticity of the icon, but should I have pointed out to the auctioneer the wrong description ie; Possibly Erik Kollin and the discrepancy of the assay marks?