G / R.I - Grimwade Unregistered Mark 3594
Posted: Fri Oct 14, 2011 9:45 am
G over R.I - Grimwade Unregistered Mark 3594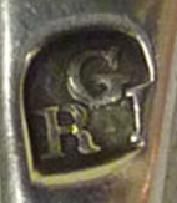 Arthur Grimwade recorded this mark on a tablespoon assayed at London in 1761, and also on undated buckles. The above are noted on a 1766 tablespoon.
This mark is very likely to be that of the brothers, Richard and Joseph Gosling. Ambrose Heal records this partnership at the Fox & Crown, Cornhill, in 1773, and notes them as spoonmakers. Heal's information is likely to have via the Parliamentary Report List 1773 were they appear.
Richard and Joseph Gosling were very likely to have been the sons of the silversmith Richard Gosling (Grimwade p.526)
Trev.