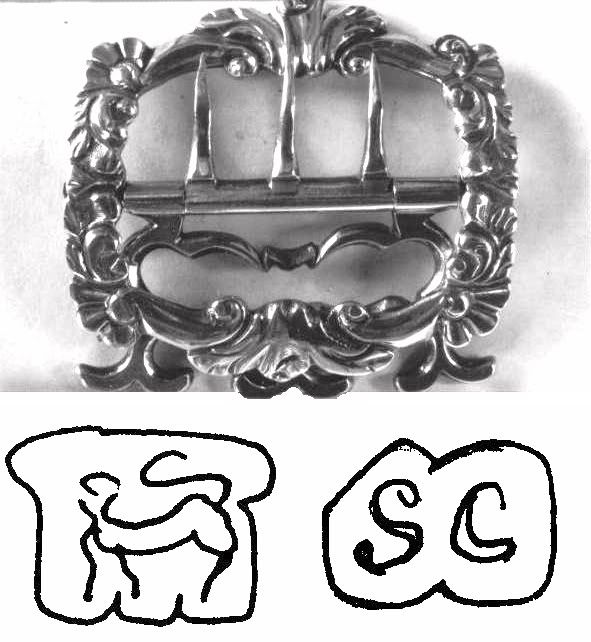 This extraordinarily rococo stock buckle, very much in the French taste, and with continental style chape anchor fastenings, was found in France and is in a private French collection.
It has however an unmistakable English assay Lion Passant Guardant of the 1740 —1756 period and was probably made for the export market.
SC could be a lost register mark of
Simeon Coley
, whose first known recorded mark was in September 1761. It certainly resembles Coley's 1763 mark (Grimwade 2492) .
Another possibility is
Samuel Cooke
, a silversmith not recorded by Grimwade.
I call him Samuel Cooke the Elder to distinguish him from the later Samuel Cooke of Crown & Sceptre Court. (I also believe there may have been an even earlier one, who I have termed Samuel Cooke the Eldest !)
This particular Samuel Cooke was the brother of Edward Cooke of Southwark.
Edward took Samuel Moulton (later to be a silver bucklemaker) as apprentice on 11 January 1764, and turned him over the same day to his brother, who was described as Samuel Cooke , Musician (presumably his guild ) . However in the apprentice records at Goldsmith's Hall there is a note indicating that Samuel Cooke's widow, Elizabeth, was Samuel Moulton's 'master' - this was probably due to Samuel Cookes death in either late 1763 or January 1764.
Samuel Cooke the Elder left all his property to his widow, Elizabeth Cooke who proved his will of July 1763 at the PCC on 1 February 1764
(PROB 11/895 - Will of Samuel Cooke of St Leonards, Foster Lane Silver Smith ).
She herself had entered a mark as a smallworker at Foster Lane on 24 Jan 1764
Grimwade's suggestion that she may have been the widow of Thomas Cooke II seems to have been wrongly accepted as firm fact in some reference works. Thomas Cook's will of 1761 indicates that he was not married. He left numerous bequests, inclunding many to known silversmith, but the majorityof his estate went to his partner Richard Gurney
.