CA
This mark is often seen on stock ( the neck cravat ) buckles and once on a pair of knee buckles.
There appear to be at least four marks — all probably by the same maker. Two of the marks have both been seen on stock buckles of a distinct design almost certainly the workof one maker .
All three periods of London Assay Lions are covered , although the one example of 1720 —1740 lion is believed to be a forgery so his dates probably only span the 1740 — 1770 period. The pair of knee buckles by him appears to have a great amount more copper than sterling should ! I have a suspicion that ,like many bucklemakers he was something of a rogue .
CA Mark 1. -------- On a pair of Knee buckles with the 1740 —1756 London Lion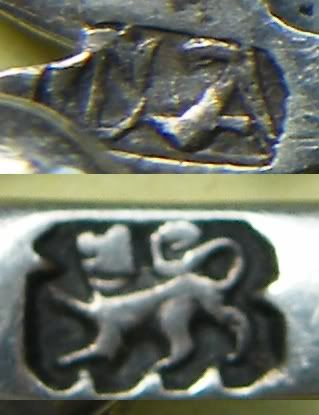 CA Mark 2. -------- On plain stock buckle of with the 1740 —1756 London Lion. Appears to be a variant, but different punch to Mark 1 . Same period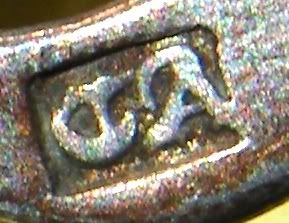 CA Mark 3. --------- On a decorated stock buckle with the 1740 —1756 London Lion
CA Mark 4.. -------- On two plain stock buckles of different types , one with the standard London Lion of 1756 —1784 period. The other ( illustrated ) has a most peculiar lion. At a glance it looks like the 1720 —1740 London Lion but a closer look reveals it to have two staring google eyes ! I think this may be a forged mark, the forger having drilled the punch for eyes rather than made it with protrusions. Both it, and the makers marks appear to have been made by sandcasting !
I can find no suspects for this guy and can only assume he was in the lost smallworkers register. Or kept remarkably well away from the Assay Office
.