Hello, I recently got hold of the 4 inch (10 centimetres) long salt type spoon shown below.
It lacks both a date letter mark and "Guild" mark but was indicated as a London made spoon, possibly by the "Philip Norman" silversmith, listed in "Grimwade's" unregistered marks. This "PN" maker's dates were suggested as 1770-1782. I already had the feeling that standing lion mark and the Monarch's head duty mark looked a bit non typical in their almost circular cartouches. The lion cartouche was not the ovaloid you sometimes see and the lions head does not appear quite right to me. During the 1770-1782 working period suggested for Philip Norman the lion's head should be "guardant" but it looks more a "passant" head to me. Additionally the Monarch's head only started to be used in 1784 and was in the "incuse" form for the first 2 years.
It is these pseudo hallmarks that brings me to this section of the Forum. One Colonial "PN" silversmith, well known to use pseudo hallmarks, would be Canada's Peter Nordbeck. There are several mentions of Peter Nordbeck on the Forum and of particular note is the one referenced below that has images of marks of this Halifax, Nova Scotia, silversmith.
viewtopic.php?f=57&t=19807&hilit=nordbeck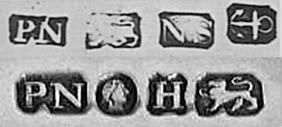 Am I correct in my assumptions? My spoon does not have marks referencing Halifax or Nova Scotia and is without the anchor mark. However my spoon's "PN" mark does have that characteristic triangular "flick up" from the base of the cartouche between the "P" and the "N". Peter Nordbeck's working dates are suggested as 1819-1861, probably a good commercial time to have a Georgian type Monarch's head on the silver items you were producing.
Fishless