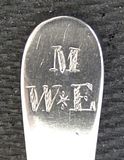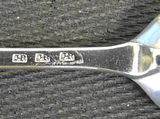 This plain Old English teaspoon (1760-1780) appears to have the John Hampston & John Prince conjoined JHP mark stamped 3 times at bottom end only. Referred to in Jacksons (P464, earliest form of mark, no description given) and shown on an auction website where it is identified as Mark 3, Page 67 of York Assay Office and Silversmiths 1776 -1858 by Martin Gubbins. Identical marks appear in the catalogue on a basting spoon given as circa 1781.
Can anybody confirm details or give further information.
When I found this spoon it was unidentified, I did not recognise it, but something made me think it was worth further investigation.
Hampton and Prince are given as starting in York in 1770 and the Assay Office opened again in 1776, so I infer the spoon was made between these dates as there are no Assay Office marks.
Regards
Paul