Hi This is my firt post so I hope I did everyting correct. I have this silver Dutch marriage spoon with what appears to be conflicting marks. On the front of the spoon is the dolphin mark in a triangle cartouche. On the back is an O with a crown above and what appears to be the makers mark IR.
I followed the link from this site to the dutch makers mark site and found what I think is the o with a crown above. This site is in dutch but it appears to date this mark to before 1810. The makers mark IR which matches the one on this spoon belongs to Jan Rienstra. Futher research on his name states that he died in 1832.
Could it be that the dolphin mark was used earlier than 1853 or is my other research off the mark. Thanks in advance for any help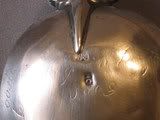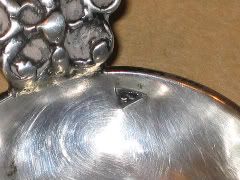 .