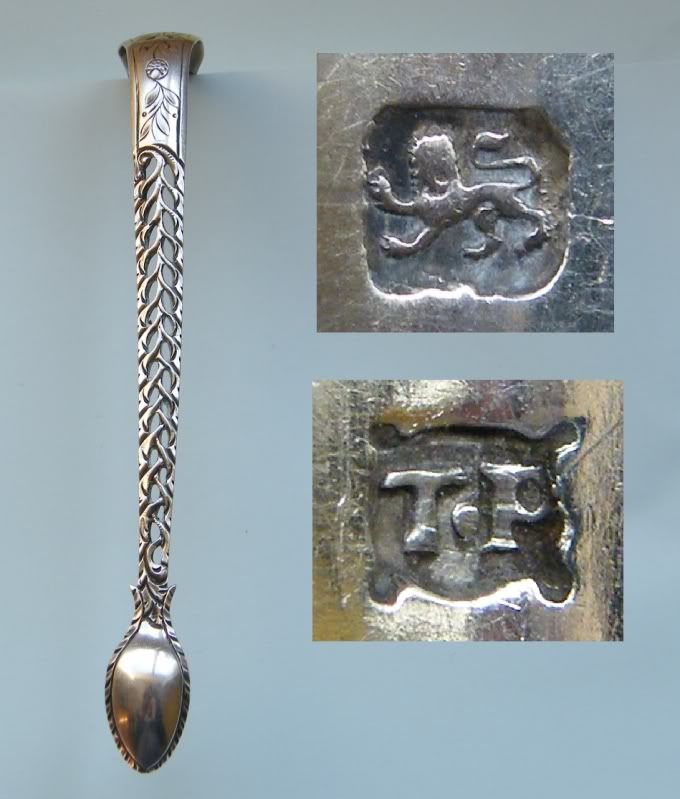 This pair of tongs, made in three pieces, appears to be a combination of the cast tongs of c1770 and the later 1780 —1790 period ones that were made in one piece. They are crescent shaped in cross-section - what Graham Hodges calls " concave armed tongs" — a good name .
The style of engraving is c1770 but the unusual barbed bowls and the casting style seems a little later . Perhaps provincial .
But who is the maker ? His punch is very distinctive , a sort of bastioned fort cartouche which I've only seen once before, on a buckle of the 1740 —1756 period by IL -also unidentified see
viewtopic.php?p=40628#40628
The Lion Passant Guardant is in a very square punch, and it is possible it does not have the normal distinctive " nipple" to the bottom edge. My own thought is that they may be Newcastle and that this is an unrecorded mark of Thomas Partis II — although they seem a little late for him.
.