Hi,
Dad wrote – 21.10.2010
"I believe that this subject is GAZYR - part of military clothes of Cossacks and the people of the Caucasus. Gazyri were capsules for gunpowder in old time. 1 gazyr - 1 shot from a gun. Then it became simply part of ornament for a military uniform...
Usually the cylinder was wooden + silver caps, but the rich person could have gazyri from solid silver."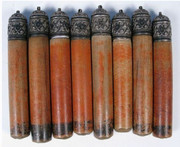 I own two "mysterious capsules" in niello-technique.
The upper and lower parts of my two objects are made of silver.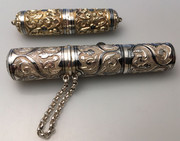 a) 7 cm - 33 gr
b) 9,5 cm - 60 g
a) Tiflis ? - PL p. 250 ff ?
b) Wladikafkas - PL p. 236, No. 3196
a) Please tell me how the name of the manufacturer
KИK
(1886-1896) is written in Latin letters.
"K.I. Kodjhyarnts"?
By the way, Emperor Nicholas II liked to dress up in a cherkeska adorned with gazyrs, although in his outfit they were just a decorative detail.
Do you know anything about using gazyres made entirely of silver?
This is my idea:
Regards
Silverstone