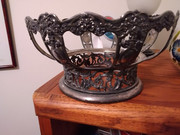 From what I've learned here, this piece is probably silverplate with a lacquer on it. The makers mark is Viking (helmet)V27, and I don't even know what to call it.
It wasn't used this past year and is now all discolored.
I'm new at this and need your help in how to clean this. Silver polish ? I've seen posts about boiling water and detergent.
I don't want to ruin it. (The person who gave it to me thought it was the ugliest thing she'd ever seen, but I like it !)
Thank you for your help.