Hello everyone
I found this bowl which I think is German or neighbors, because of the number 13. It also bears a mark used in the Kingdom of Sardinia between 1824 and 1872 on silver items coming from abroad.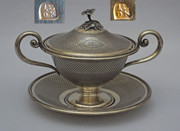 What I would like to know is what exactly this object was for.
it's too big to be a sugar bowl and too small to be a tureen.
Best
Amena