I have the strange task of judging the competence of someone who has collected some silver marks and cataloged them.
There are marks of Italian cities, but also marks that are attributed to European cities, and I have no authoritative texts on foreign silver, so I ask the experts for help.
This mark is cataloged as "Paris", but, for what little I know, it seems to me that it is not. I'd rather say Lyon. Can anyone give me a definite answer?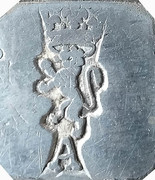 Thanks for attention
Amena