Hello forum.
I would appreciate if anyone could identify a maker if possible and maybe city and/or a date range when this was made. The box is around 8.5 cm wide .
Click on each image to enlarge.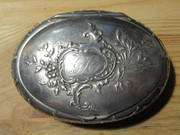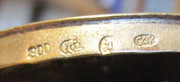 The marks are, from left to right, the quality mark 800, the Crescent Moon and Crown, A Unicorn and finally C Delta R.
Thank you in advance.
Ian T