I purchased this set of fish service flatware from an antique shop in Richmond, Virginia 35 years ago. Only one piece has a hallmark, and that is the smaller wedge shaped server. The mark is NS Co Sheffield. I think this may be Nathaniel Smith. However the small server is the only piece with the mark. The other pieces seem to be made by the same person although the sleeve connecting metal to the handle is slightfly different. However all the bands look hand made and they are not all exactly identical.
I have always thought this is silver plate over copper as the bowl of the sauce ladle seems to show some wear in the bowl that may be the copper showing through slightly. However the bands of all the pieces which attach the metal to the mother-of-pearl are stamped STERLING. I have six knives and forks plus the serving pieces. Can anyone tell if these are all from the same manufacturer and if all the pieces are Nathaniel Smith or just the one with the hallmark? This has been a mystery for me for 35 years. Would like to know what these are and who made them before I pass these on to my niece. Can anyone tell if they are all Nathaniel Smith or just the one piece. THANK YOU!!!!
Hallmark on the small wedge shaped server.
Note shapes are identical but the larger server does not have the hallmark. It just has STERLING stamped into the connector band. The band on the smaller piece with the NS and Co hallmark does not have the word sterling stamped on it and appears to be slightly different. However many of the bands are slightly different as they appear to be hand made.
An image of one of the knife and forks. I cannot tell if they are sterling or plate. They feel like sterling.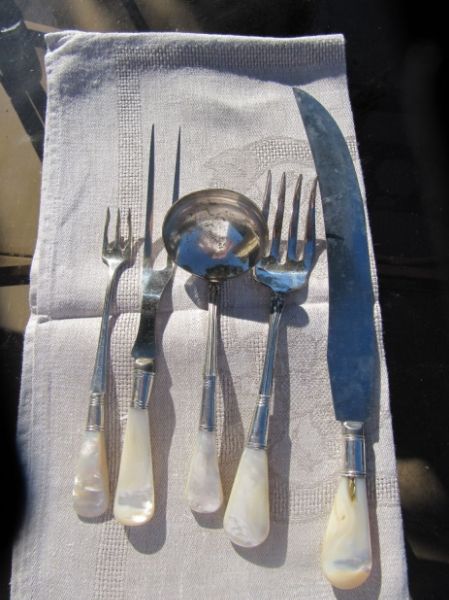 The serving pieces. The ladle makes me think it may be silver plate over copper.