Hi all
I have a pocket watch that was made in London by George John Richards, late of Clerkenwell.
I have identified his maker mark, the London hallmark and the lion rampant which I think came into being in 1854.
Within the watch case are a number of receipts for what appears to be service / repair work. These appear to date from 1853 up to 1883 and are issued on circular inserts from a watch maker in Chesterfield named John Robinson who I have identified as working from South Street in Chesterfield.
However, on the reverse is an identifying repair number and the name Hayes of Ashover which is interesting - not sure if watch repairs were sub-contracted out or if there was a cottage industry in place.
I cannot identify the year mark and wondered if anyone can help please.
[url][url=https://postimg.cc/VdYKzFgn]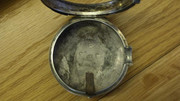 [/url][/url]
[url][url=https://postimg.cc/rDHjC2kN]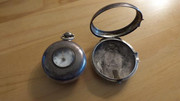 [/url][/url]
Many thanks in advance
C