Hi everybody!
Here is a set I suppose to be iranian (875/1000 purity) juding from the hallmark you'll find bellow: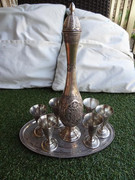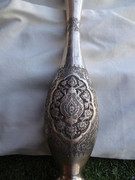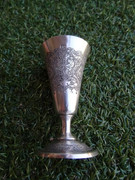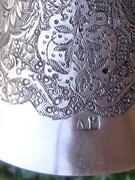 Few questions about it:
- what is the use of this set? wine?
- hallmarks are only at the top of the beakers unlike russian beakers which are punched at the top and bottom: does that mean those one are only in silver for the top parts?
- as you can see, the service consists of a bottle and a tray in addition to cups: is that normal that I can't find any hallmark on it? Is it common that this kind of set to be composed by beakers in silver and bottle and tray in silverplate? (For the tray I would find this normal as for french tea sets which are usually composed by silver parts and silverplate tray...). Moreover, no silversmith or town mark found...
That's it! As you will observe, I don't know really persian silver, that's why some of my questions may seem stupid...
Thanks for your help!
Don Smoka