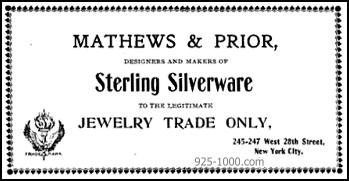 "Mathews & Prior is the name of a new firm who recently started in the manufacture of a regular line of silver hollow ware and novelties, exclusively for the legitimate jewelry trade. Their offices are at 245 W. 28th St., New York, and the firm consist of Frank M. Mathews and Charles M. Prior. Both members of the firm, as well as their traveling salesman. Fred W. Cook, are well known to the jewelry trade, Mr.' Mathews having been in it for 14 years, Mr. Prior for 18 years and Mr. Cook for five years. The firm make a specialty of designing special and presentation work and are pleased to furnish estimates to dealers interested in such work."

Mathews & Prior ~ New York
1898 advertisement and announcement from
"The Jewelers' Circular and Horological Review"



Mathews & Prior
New York, NY
1898 - c.1904
(maker's mark example)





CLOSE