A Chronology of
Arthur Stone Maker's Marks

• • •


c.1901

c.1902-1903
c.1906

c.1906-1937


• • •



After 1937



Stone Associates
c.1938-1957
Ernest W. Lehtonen
from 1957 (d.1980)
Arthur Stone ~ Silversmith
(1847 - 1938)
by Herman W. Glendenning
Sterling Kettle on Stand

Arthur J. Stone was an artisan who maintained individual craftsmanship during an age of mass production. He was trained by the master silversmiths of Sheffield, England, and later excelled in traditional English silver craft. Stone's work in silver not only exemplified English thoroughness and integrity but also added an American influence of individuality. Because of this he became known as the "Dean of American Silversmiths."

Arthur J. Stone was born in Sheffield, England, in 1847. When Stone was 10 years old his father died, leaving the family penniless. He had to leave school to help support his widowed mother. Four years later, Stone was apprenticed to a master silversmith. During his apprenticeship, Stone spent three nights a week attending the Natural School of Design in Sheffield. In order to pay the tuition he worked overtime, after completing the 59 hours per week required of apprentices. Stone undertook this extra effort because he was not satisfied with the idea of just being an expert worker in his field
Sterling Master Salt

- he also wanted to understand the concepts of design in his craft.

Upon the completion of his apprenticeship, Stone worked and studied in Edinburgh, Scotland, for a year, and then returned to Sheffield. While in Sheffield he was attracted by American advertisements offering good salaries for skilled silversmiths. Thus, he left England in 1884 and took a position with a silver craft shop in Concord, New Hampshire.

Three years after his arrival in the United States, Arthur Stone came to Gardner. Here he became superintendent and designer at the newly established Frank W. Smith Silver Co. In the years to come, the Smith Silver Co. became one of the finest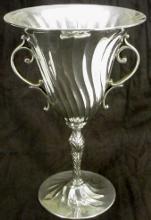 Sterling Standing Cup

equipped factories in the country, manufacturing high grade silverware, both by machine and by hand. The company's former silver shop still remains at the corner of Chestnut and Walnut Streets, although silver hasn't been crafted there since the 1950s.

After spending several years with the Smith Silver Co., Arthur Stone struck out on his own and established a silversmith's shop in South Gardner in 1901. The shop was located in a barn next to his home at 17 Winter Street. During the first five years as an independent craftsman, Stone only worked on projects that he could execute single-handedly. Then the demand for his work became so great that he hired two full-time craftsmen. After 25 years of operation, the shop was employing 12 men, eight of whom qualified as master craftsmen.
Sterling Serving Spoon



Arthur Stone remained in business for 36 years. During that time the output from his shop included such things as silver toys, cocktail shakers, bowls, trophies, memorials, altar sets for churches, tankards, tea sets, and table silver in various forms. Stone's craft can be found in private collections, churches throughout the United States, and museums including the Metropolitan in New York City and the Worcester Museum of Art.


Sterling Compote

One of Arthur Stone's major undertakings was to copy for private ownership some of the noted Revere pieces in the Boston Museum of Fine Arts. He was allowed to take exact measurements and to sketch the ornamental detail. However, his greatest project was a monstrance, a receptacle in which the host is displayed, which was made for the Church of the Advent in Boston. This particular piece was done in gold, and took Stone and helper six months to complete.

Arthur Stone's work can be recognized by his trademark. It has an "A" for Arthur in the form of a chasing hammer with the handle extending through the name "Stone" and crossing the "t." Each of the craftsmen employed by him also signed their work.
Sterling Bowl

They had their initials stamped either under or after the "sterling" label of the crafted piece.

Because of illness, Arthur Stone retired in 1937 at the age of 90, and died the following year. Upon his retirement, Stone sold his shop to Henry Heywood of Gardner. Heywood continued the business for a short period of time, and then his sons conducted its operation until the mid 1950s. Some of Arthur Stone's former craftsmen, including George C. Erickson and Herman W. Glendenning, continued to make beautiful silver items until their retirement in the early 1980s