Some Variations of Russian Assay Marks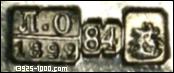 Usage of the troinik (тройник) or triple mark began in 1882. The troinik was a stub, a type of stamp in which a sequence of separate marks were engraved together onto a single diestamp to give the illusion of three separate marks. The notched points to top and bottom of the standard number indicate the troinik stamp which includes in order; assayer/date, silver standard, and city mark. Note that there are minor variations and the troinik was not always used. When the troinik stub was not used and its three component marks were stamped separately, the cartouche of the standard number does not have notched points.


A second type of assayer punch was used as from 1882. This version is called a dvoinik (двойник) or double. It was a single compound mark containing two elements; a silver standard number and a town symbol.
Assayer's initials and date were not included on pieces bearing this mark.
The dvoinik was generally used on smaller pieces.

A

B
A third type of assayer punch is the chetvernik (четверник) or quadruple. It was a single compound mark containing four elements; silver standard number, town symbol, assayer's initials, and date year.

Type A is in oval format and was used as from 1882.

Type B is in rectangular format, its date of inception is not known, but it has been noted with dates as early as c.1875.