Hello, I recently came across these two silver Cooke & Kelvey plates(?) and would love to get some more information about them. The only place I could find any info at all was the 925-1000 site, so thank you for providing such helpful information.
They came in a padded wooden box with seemingly a faux leather or vinyl covering, and stamped metal hinges and latches. On the front of the box is a "C&K" logo (forgot to take a picture of the outside of the box). To me, this box looks somewhat cheap/modern (I would have guessed 70's era) but from what I've read, C&K was manufacturing until about 1930. Each plate weighs 107g. I did some home-gamer volume/weight measurements with a 1g resolution kitchen scale, and got for both plates: 214g/20cc, or 10.7g/cc so I'm reasonably certain they're not fake or silver plated.
First of all, I'm really curious what the year of manufacture might be.
Secondly, what would the use of this article be? Candy dish? Candle holder?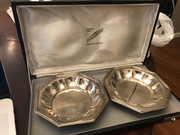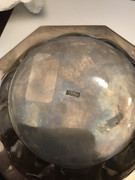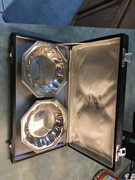 Thanks in advance!