Here are the pics of a 17 cm (6 11/16 inch) long, 4.3 cm bowl width, fiddle pattern (toddy?) ladle I recently acquired. The maker/hall marks are too small for me to photograph (maker mark just a tad over 1 mm tall), and so I have substituted a drawing made with the help of a 30x loupe. The drawing is a reasonable facsimile of the marks, but the inter-mark spacing is NOT to scale - the marks are much more spread out than shown, particularly the maker's mark on the left. Note that these marks were only partially struck to begin with, and have been rubbed to boot. Based on the marks and the engraved crest, I'm guessing this is a Brit provincial piece, though it is somewhat lightly constructed for Brit work, weighing about 0.9 troy ounces.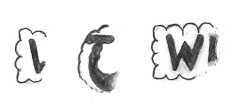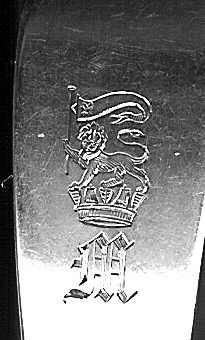 Not shown is the drop, or lack thereof, as there is no protruding drop on this piece, the stem-bowl junction is smooth on the underside. As far as the maker, the only decent partial match I find is Wm. Hannay of Paisley, much based on the unique shield border of connected semi-circles, convex out, slightly pointed at the shield corners. But the town mark doesn't appear to match, though the sideways anchor might be in the ballpark, as badly as the mark was struck and has since been rubbed. I have included a photo of the engraving in case it is contemporary with the date made (it is hardly rubbed at all), in hopes it may denote the crest of a family nearby the maker.
Might anyone venture an opinion as to the maker and/or perhaps the name/location of the family indicated by the crest? TIA for any info!
SS
.