Who knows the maker of these 1874 Newcastle spoons?
John Walton is pictured in Jackson's, but his dates aren't given.
Miles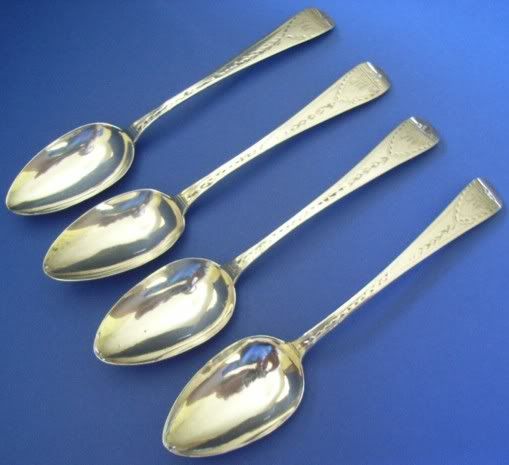 .
---
We have some dates for him here with a circa end date of 1856 ->
Newcastle Marks
Perhaps his son or grandson was still in the trade in 1874.
Regards, Tom
.
---
contributor
Posts: 1012
Joined: Fri Apr 06, 2007 6:52 am
Location: England, Warwickshire
Contact:
Margaret Gill in "...Newcastle Goldsmiths" gives John Walton as retired around 1867, but gives no other IW likely.
As the leopards head is uncrowned on these marks ( it was only uncrowned in Newcastle in the period 1846 to 1851) I suspect that the maker is John Walton, but the dateletter is a capital ("i" ), I and thus the date is actually 1847/48.
Accepting your presumed L as an I , then the date, maker, and Leopards head match nicely .
.
---
Yes, I think you're right buckler.
Thank you,
Miles
.
---
---
Return to "Newcastle Hallmarks"
Who is online
Users browsing this forum: No registered users and 3 guests