I am an avid collector of Yellowstone National Park items including souvenir spoons. I have a collection of 9 spoons and 1 fork with the exact same handle front and back detailing with varying ornate bowls and 1 fork. What is interesting is the fork and 8 of the spoons have R. Wallace & Sons Mfg. Co. makers mark but one of the spoons is marked Sterling-Haynes.
Now I know Elwood Haynes founded Haynes Stellite Co. that manufactured table knives and other cutlery in the late 1910's to early 1920's. However I also know that Frank Jay Haynes who is often viewed as "the" Yellowstone National Park photographer. F. Jay Haynes did make plates of varying styles to sell out of his photo shop very early on in Yellowstone before Yellowstone National Park started requiring licenses to sell certain items etc to help with competition pricing issues. I own quiet a few along with many of his photographs and similar Yellowstone National Park printed items.
I am wondering/guessing if this spoon is proof he also requested spoons be marked with his name from R. Wallace & Sons Mfg. Co. like I have seen a few of the hotels do in Yellowstone National Park with other silverware manufacturers.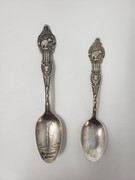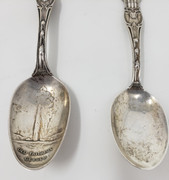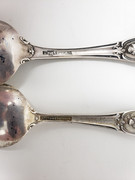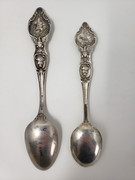 Anyone have any clues?